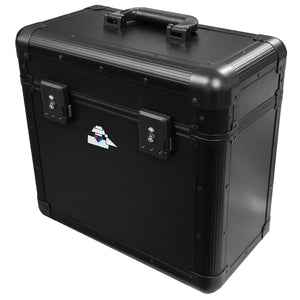 Mach-Hommy
Mach-Hommy 12" Sonic Artifacts Carrying Case
Regular price
$222.22
$0.00
Unit price
per
It's a cold world. Trust trades on the gold standard. So who can you depend on to protect your portfolio?
Stealth, black-on-black  construction camouflages in plain sight. The sturdy metal carrying case, like out of a spy movie, is a safe house for your blue chip vinyl investments. Combination locks keep your honest friends honest, and your manic delusions at bay.
The enamel badge signifies authenticity. Accept no imitations or limitations. While other collector's may begin to perspire at the mere thought of relocating their high value items; you, on the other hand, will keep unmistakably cool. The MACH-HOMMY SACC (SONIC ARTIFACTS CARRYING CASE) is a perfect match for the discerning traveler who wants to keep their options, open.

All sales final.  No refunds, returns, or order cancellations.
International prices do not include customs charges. Expect to pay import duties for orders outside the US.

In-stock orders ship within 5-7 business days of purchase. The shipping class you select has no impact on order processing time (selecting "Priority Mail" will not get your order shipped faster). We do not offer rush processing.

Estimated pre-order ship dates are listed on the order page. Pre-order ship dates are subject to change. If an order contains both pre-order and in-stock items, we will wait until all items are available before shipping your order. If you prefer multiple shipments, please place separate orders. You will receive a shipment confirmation email with tracking information once your order ships. Please note it often takes a few days for the tracking number to appear in the USPS tracking system.

If you are located outside the U.S. and select USPS First Class Mail International as your shipping method, tracking is extremely limited and no insurance is included. Shipments can take up to 6 weeks to arrive (or longer in some cases), and often go several weeks in transit without any tracking updates. Packages are scanned when leaving the U.S., and are often not scanned again until delivery. Due to the limited tracking, USPS does not accept inquiries for this service and we cannot check on the status of a shipment. Since this service does not include insurance, we assume no responsibility if your shipment is lost, returned to us, or arrives damaged. Additional fees apply for re-shipments. USPS Priority Mail International shipments usually arrive within 10 business days and include full tracking and insurance coverage.

All sales final. No refunds, returns, or order cancellations. Any problems with an order must be reported within 2 weeks of delivery (or within 3 months of shipment for undelivered orders). We cannot assist with any issues reported beyond this time frame.  If your order is damaged, please keep the shipping box and all packaging material, as this evidence will be required for filing a shipping claim.  If original packaging is discarded, we cannot file a shipping claim, and you may be responsible for re-shipment costs.
---